This is a detailed guide describing how to get to Ayutthaya from Bangkok, based on our first hand experience and including lots of helpful photos. Travelling from Bangkok to Ayutthaya can be an easy, fun journey with a little bit of know-how.
NOTE: If you have interested in getting from Ayutthaya to Chiang Mai and have somehow ended up here click here to read our guide to the Ayutthaya Chiang Mai train. Otherwise, read on 🙂
How far is Ayutthaya from Bangkok? It is about 85 km, which is roughly 52 miles. Given the distance from Bangkok to Ayutthaya some form of transport is required. There are a few options available.
You can get from Bangkok to Ayutthaya by bus, minivan, boat, car, motorbike, or train. We chose the train because there is more leg room, you can walk around, there are often snacks available and there is usually a toilet that you can use at any time. Trains in Thailand are generally a great way to get around.
We will cover the train and a some other options in detail below.
The Bangkok Ayutthaya Train
All trains leaving Bangkok for the rest of Thailand leave from the Hua Lamphong Station. It is ideal to get to the station in the morning at about 9am so that you miss the peak hour frenzy of people coming and going from this very busy train station.
The Bangkok to Ayutthaya train leaves very regularly from Hua Lamphong so there really is no need to rush unless you are only going for a day trip. Click here to get detailed information on the train schedule Make sure you are looking at the Bangkok > Chiang Mai timetable. Be aware that delays are reasonably common so do not plan your schedule too tightly.
The easiest way to get to Hua Lamphong Station is via the MRT (the Bangkok subway). The Hua Lampong train station is right at the MRT station. You can catch the sky train and then transfer to the subway if necessary. The sky train and the subway systems are connected at multiple places so its easy to switch.
Once you are at Hua Lampong go straight past anyone that tries to help you in any way. Many of these apparently friendly helpful people are, sadly, scammers. There are often a few of these people at Bangkok train station and its almost impossible to work out who legitimately works for the railway and who does not. Take anything said to you by anyone not behind the information or ticket counter with a grain of salt even if they are wearing an official looking train station uniform or name badge.
Walk in and go straight to the train ticket counter. There are two counters. One for purchasing train tickets in advance which means two or more days in advance. The other counter is for buying tickets for today.
There was a time, not too long ago, when the Thai Railway were not selling any tickets below second class to foreign tourists. Luckily for us, this has changed. Our third class tickets from Bangkok to Ayutthaya cost us a whole 15 Baht each. The journey would take just under two hours in total. Fine with us. Two hours of looking out the window at the scenery. Nice!
For a longer trip like the overnight journey to Chiang Mai you will want a second class sleeper but for the short journey to Ayutthaya third class is fine.
While you wait, Hua Lamphong Train Station has a lot to offer. There is a left luggage room for you to store your luggage if required, many shops selling various food items including pastries and there is even a food hall for anyone wanting to sit down for a proper meal. The train station is fairly clean, the bathrooms are ok and there are a lot of seats to sit on while you wait.
Catching a third class train in Thailand is very different to catching a first or second class train. First and foremost, you do not get assigned seating. This means that as soon as the train arrives at Bangkok, before it has even stopped on the track, you need to be ready to jump on the train to get a seat. If you are too slow you may find yourself standing for the duration of your trip. At least the train to Ayutthaya is only two hours.
Once you get that glorious seat, put the window down and enjoy the ride. There isn't really much on the train in terms of entertainment. Every now and then, a person will come down the aisle offering bottles of drinks, snacks of some kind, and even toilet paper to use in the toilets. The toilets are not awesome but at least there is one to use if you are desperate. Keep your ticket handy as the ticket inspector will come through at least once to check you have paid.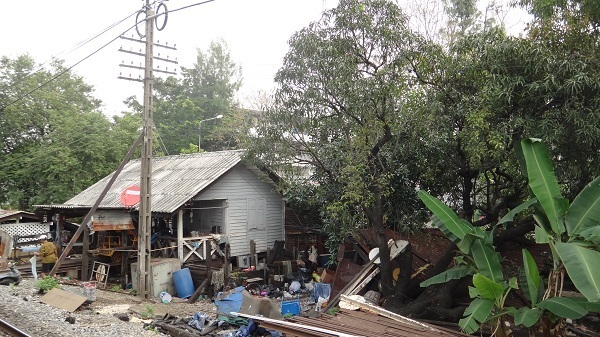 When we had almost arrived at Ayutthaya a lovely gentleman walked through our carriage and told everyone that we were approaching our destination. It is a popular place to visit so quite a few people will get off. Be ready to depart the train as the Thai Railway staff sometimes like to be quick with their stops. The train may well sit at the station for five minutes but it's not uncommon for them to stop for less than sixty seconds.
Welcome to Ayutthaya, the old capital of the Kingdom of Siam! Although at the time the name Kingdom of Ayutthaya may have been more appropriate.
Once you have jumped off the train, if you have your luggage with you but are not staying in Ayutthaya, you can leave your bags at the Ayutthaya train station. We don't recall the charge for this service but we looked at the room. It was designed nicely with big sturdy shelving all the way around and even spots that you could lock your bag to if you had a Pacsafe security bag or similar.
To get to the ruins of Ayutthaya, walk out of the Ayutthaya railway station, straight across the road and straight ahead. You will come to a river with a little ferry making its way back and forth. The ferry cost a grand total of 10 or 15 Baht each (Sorry, our memory on this is a little fuzzy).
Once you get over the river, you can then rent a push bike or motorbike for the day which can make the getting around a little easier. We did not bother as we were in no great rush but the option is there if you do not want to walk around in the heat.
Hopefully you will enjoy the trip from Bangkok and the town of Ayutthaya just as much as we did!
The Bangkok to Ayutthaya Bus
We have not personally caught the bus from bus from Bangkok to Ayutthaya but here is some information if you want to consider it.
Public buses ply the route very regularly. They leave from the Northern Bus Terminal which is near but not at the Moh Chit BTS station. Expect the trip to take 1-2 hours.
You can also get a minivan near Victory Monument. A minivan should be faster as there will be less stopping to pick up and drop off people. Minivans typically leave when they are full rather than on any sort of schedule so some patience can be required. Victory Monument is however a popular spot for people looking to catch minivans so you usually do not have to wait too long.
Getting From Ayutthaya to Bangkok
A few thoughts about doing this trip in the other direction.
The southbound Ayutthaya to Bangkok train is just as easy to catch as the train heading north. Go to the Ayutthaya train station to purchase your ticket(s). Ideally do this a day or two in advance to avoid disappointment. For such a short journey however you won't be getting a sleeper so advance booking is unlikely to be critically important.
Click here for the Ayutthaya to Bangkok train table Make sure you are looking at the Chiang Mai > Bangkok timetable. Delays are fairly common so do not make plans that require precise timing.
Bangkok Airport to Ayutthaya
What if you want to go straight from one of Bangkok's two airports to Ayutthaya? Private cars and taxis are always an option. Unfortunately we do not have a recommendation for a company. There are always companies with counters at the airport who will be able to help you. This should be convenient but it will certainly not be the cheapest option.
Suvarnabhumi Airport To Ayutthaya
To get from Suvarnabhumi airport to Ayutthaya you can use Bangkok's fantastic skytrain/subway system to reach Hua Lamphong station where you will catch the train out of Bangkok. Although this is not complicated it does involve some fiddling around to get to Hua Lamphong.
There is a spot to catch the BTS (the sky train) inside Suvarnabhumi airport. You will need to change lines twice from memory but the system is fairly simple. You want to get from Suvarnabhumi to Hua Lamphong MRT. Hua Lamphong MRT is a subway station right next to Hua Lamphong station where you will catch the train to Ayutthaya. Click here to read more about Bangkok public transport
Don Mueang Airport To Ayutthaya
To get from Don Mueang airport to Ayutthaya you can actually catch the train headed north out of Bangkok without needing to ever go to Hua Lamphong station. It is only a short walk from Don Mueang airport to Don Mueang train station and northbound trains departing from Bangkok pass through there. Click here for a train timetable Make sure you are looking at the Bangkok > Chiang Mai section.
Travel Tips
Be Careful Of National Holidays
You generally only need to buy tickets the day before you intend to travel. However be very careful of big national holidays like Thai new year (Songkran). During Songkran in particular the train system is jammed to capacity. Avoid travelling during this time if you can. If you must travel then get your tickets as far in advance as you can and I would recommend a first or second class ticket to get an assigned seat.
Go Carry-On Only
Getting on and off trains, dealing with crowds and walking to your accommodation in the tropical heat will all make you appreciate NOT having a huge heavy bag. Using your airline's carry-on limits as a cap on how much you can bring is an easy way to ensure you don't over pack. If you need a starting point for a great carry-on sized pack the Kathmandu Voltai has been thoroughly brilliant for us.
Find light weight ways to carry your child
Ignore this if you do not have a baby or toddler.
We have written lots of reviews of baby carriers. It is always worth having a lightweight baby carrier tucked away even if you seldom use it.
Travel strollers/prams are something we have learned a lot about. Click here for our guide to choosing a travel stroller. Get something that seems impossibly light because it won't seem so light when you are carrying the stroller plus your bag plus your child.
Once you arrive at your destination you will need somewhere to stay. Here are some places we have stayed that were ok.
Where To Stay In Ayutthaya
We stayed at a place called Grandparent's Home. It was a basic but pleasant place to stay for a few nights. It is a reasonable walk from the train station although the distance might have just seemed longer because it was pouring rain at the time. Being away from the train station does mean that it is only a few minutes walk from the ruins which was very handy.
Where To Stay In Bangkok
We have stayed in many different places as we spend time in Bangkok fairly regularly. Click here for our guide to the best area to stay in Bangkok. Below are some specific accommodation suggestions.
We have stayed at the Nantra Sukhumvit 39 Hotel twice. The first time was great but unfortunately it seemed to have gone downhill by the time we stayed there again but it was still ok. Its location about 30 seconds from a BTS station is brilliant.
Click here to read our full review of Nantra Sukhumvit 39
Click here to check current prices and deals
We have also stayed at the Amari Watergate twice and it was absolutely lovely both times however it is definitely not a budget hotel. It is wonderful if you want to splash out and get some luxury. Its location is a touch isolated.
Click here to read our full review of the Amari Watergate
Click here to check current prices and deals
Baan Udom is only a 10-15 minute walk from Hua Lamphong train station in Bangkok so consider it if you need somewhere to stay before catching a train the next day. It is also very close to Bangkok's Chinatown.
Click here to read our full review of Baan Udom
Click here to check current prices and deals
I won't list every place in Bangkok that we have stayed but go to Where We Stay if you want more suggestions.
Have fun 🙂